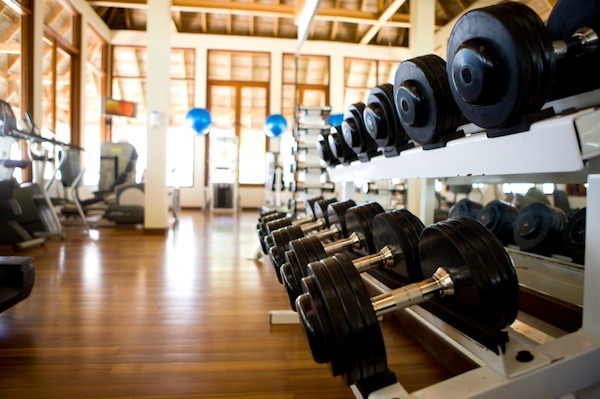 According to the 2014 Fitness Industry Analysis, there are 41 million Americans that are members of a health club, and half of those are members at a commercial, for profit facility.  The other half are split between non profit centers like a YMCA.
So that means there are 20+ million Americans that are paying monthly member dues at a for profit gym or health facility.  So are you ready to jump in and start your own gym?
Before you invest your life savings, make sure you understand your financial projections and what it will take to breakeven.  For many startup gyms the journey to breakeven does not happen over night.  The following blog post will walk gym owners through the process of creating financial projections using ProjectionHub.
Gym Membership Sales Projections
Sales projections for a gym can be fairly complex.  The first thing we are going to do is project monthly gym members by adding a "Service" in ProjectionHub and then choosing the monthly billing model.  We will assume a $70 monthly membership starting with 10 members in month 1 and increasing by 20% per month. 
Product Sales
In addition to gym memberships you may sell a number of different products or programs.  So next I am adding Nutritional Supplement products.  For example, you may sell protein powder or shakes.  I am going to assume that you start by selling 2 products per month per active member and then grow that at a 20% rate each month as you make people aware of the products and improve your selection.  We will assume the average price for a Nutritional Supplement Product is $10.
Class Sales
In addition to retail products and gym memberships, you will likely also sell specific classes.  This may be available for non-members who just want to come and pay for a 1-time class occasionally.  With ProjectionHub you could add unlimited classes and project sales for each class, but for our purposes in this blog post I am going to add one line item for all classes.  We will start by assuming that classes cost $7 for one-time clients.  We will also assume that you will start by selling 5 times the number of monthly memberships in class passes each month.  So for month 1 you will sell 5 times 10 monthly members = 50 one time class passes.  We will grow this at 10% each month.
Program Sales
Finally, many gyms have jump start programs for 4 weeks where a customer can try out the gym before becoming a member.  Let's assume that you sell the average program for $50 to get the customer in the door.  We will assume that you sell 3 times as many programs as you have monthly members because only some percentage of program participants will convert into monthly members each month.  So we will start with 30 program sales per month and grow this at 5% each month.
Below is a screenshot of the entries I made in ProjectionHub for the supplements, 1 time classes and special program sales:
Cost of Goods Sold for a Gym
Now that we have completed the sales projections, it is time to enter in cost of goods sold for each product and service.
Supplements – we will assume a $3 average material cost for the supplements
1 Time Classes – Classes will not have material costs, but will have labor costs to pay the class instructors.  Let's assume the average class has 10 people all paying $7, so you pay the instructor $30 for the class.  So $30/10 participants = $3 per class unit sold.
4 Week Programs – With these programs we are going to assume you just breakeven because these are often just a program to bring potential members into the gym, so we will assumed a $50 cost of good sold for labor cost per unit.
Memberships – Finally, we will assume no COGS for gym members.  This could be argued either way, there are probably some small COGS for gym members, but no obvious expenses that don't just fit in to general and admin expenses.
Gym Salary Expenses
Next we need to add salary expenses for the gym.  We are going to assume that we need to hire 2 part time front desk attendants, and then in year 2 we will hire a personal trainer, then in year 3 we can add a gym manager to manage the business operations.  See the entry into ProjectionHub below:
Now we need to enter general expenses for the gym.  Each gym may have different general expenses, but here is what we added as default:
Accounting = $100/month
Advertising = $250/month
Insurance = $3,000 the first month of each year
Legal = $500 in the first month
Office Supplies = $100/month
Rent = $3,500/month
Telephone = $100/month
Travel = $150/month
Utilities = $300/month
Website = $25/month
Owner Draw = $1,000/month in the first year then $2,000 and $3,000/month in year 2 and 3 respectively
 Startup Costs for a Gym
Next we need to enter the estimated startup costs for a gym.  Let's assume we want to have $20,000 in the bank in cash on day 1.  We also assume $1,500 in startup inventory costs for retail products, and $1,500 in other startup costs.  We will also assume $3,000 for furniture in the gym.   Then we are going to assume $175,000 for Gym Equipment.
When we add all of these startup costs together we are going to need to raise $200,500 in funding between personal investment, loans and other investment.  Let's assume you can get a $150,000 loan and will invest $50,500 of your own money.
Now you are ready to download your projections.  Based on all of the assumptions we entered, this gym does not breakeven until year 3 and will  need to either raise a lot more in initial funding or will need to decrease costs, so I added an investor for $175,000. You can download the 3 year financial projection template that we created on our Templates Page Here.