According to an IBISworld Report, the Food Truck Industry has grown an average of 9.3% per year over the last 5 years. If you are considering starting a food truck business you can find many different opinions on whether or not a food truck can be a profitable business for you to start, so the only way to prove it to yourself (and potential lenders and investors) is to create a set of financial projections for your own food truck concept.
Financial projections?!? Don't hyperventilate, we are here to help you through the process.
So we created a Food Truck Financial Model Template here for you to sign up for on ProjectionHub.
Once you choose the Food Truck model you will need to set up your company and then move on to Revenue Projections.
Step 1 – Food Truck Revenue Projections – We have broken revenue projections into 3 segments:
Food sales
Beverage sales
Catering sales
Of course, you can add any custom revenue line items for your business.
Now the hard part is to project how much you are actually going to sell. This Question and Answer on Quora provides some great perspective on what you can expect in terms of revenue for a food truck. The problem is that the Quora answers give a range between $65,000 in monthly sales and $5,000. It should be no surprise that your revenue "depends" on a number of variables. How much competition is there? How big is your potential market (in other words how many people are close enough to walk to your truck location?) How much do you charge per plate? All of these things make a huge difference. You should probably walk through some math like the following:
Sales Assumptions for a Food Truck
# of people within walking distance of my location during lunch – 3,000
% of people who buy lunch – 50%
Equals number of potential customers each day – 3,000 x 50% = 1,500 people
% of market that will choose your food truck each day – 5% or 75 people
Average sale from your menu – $8
Average daily sales on week day – $8 x 75 = $600
Then let's assume you do some catering or events and you make $1,000 per event 2 times per week = $2,000 in catering/events per week.
Total monthly sales = (($600 per day x 5 work days) + $2,000 in events) x 4 weeks per month = $20,000 per month
Now that we have a monthly sales projection we can split that between Food, Beverage, Catering or any other categories as I have done below.
In this example I assumed the same $20,000 in sales per month for every month of the year, but you will likely need to adjust that if you live in a seasonal climate where people may not eat at a food truck in the winter as often.
Step 2 – Food Truck Cost of Goods Sold – By far the 2 most important costs for your food track are Food Cost and Labor Cost (just like a restaurant). According to Mobile Cuisine, the average food cost for a food truck is between 25% and 38%. For this example I am going to assume 30% food cost which means that $6,000 per month will go between food and beverage cost. Labor cost is likely to be around 33% of sales. For this example I will assume labor cost (which might be your salary) is $6,500 per month.
Step 3 – General and Admin Expenses – You will also have a number of general and admin expenses like:
Accounting
Advertising
Car Washes
Insurance
License and Permit Fees
Event/Parking Fees
Supplies
Telephone
Uniforms
I threw in some estimates for these expenses as displayed below: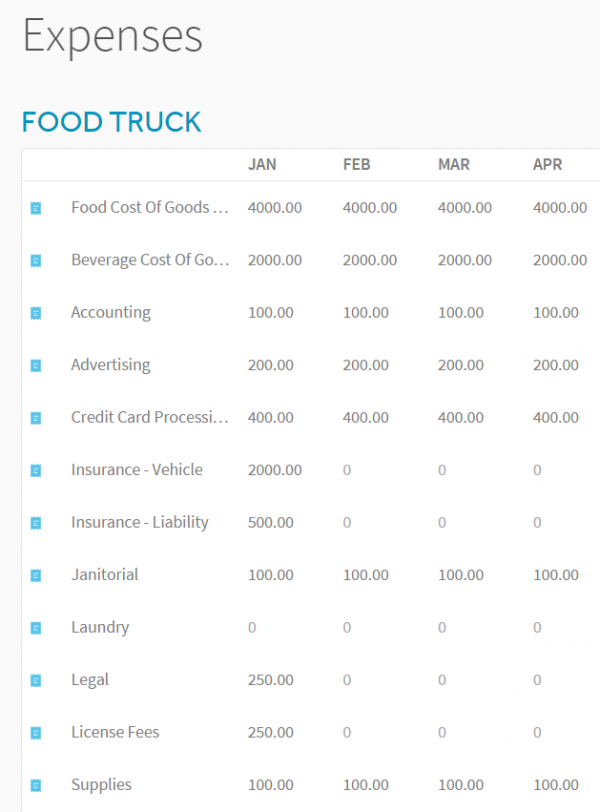 Step 4 – Startup Costs for a Food Truck –
There are a number of startup costs for a food truck. At the very least you will likely need the following:
Food Truck
Kitchen Equipment
Generator
For a fully outfitted food truck you can pay between $20,000 and $100,000+. You will need to do some shopping, you can shop around some different pricing for food truck here. In this example I am assuming that you pay $50,000 for a truck, $25,000 for equipment, and $10,000 for a generator for a total startup cost of $85,000.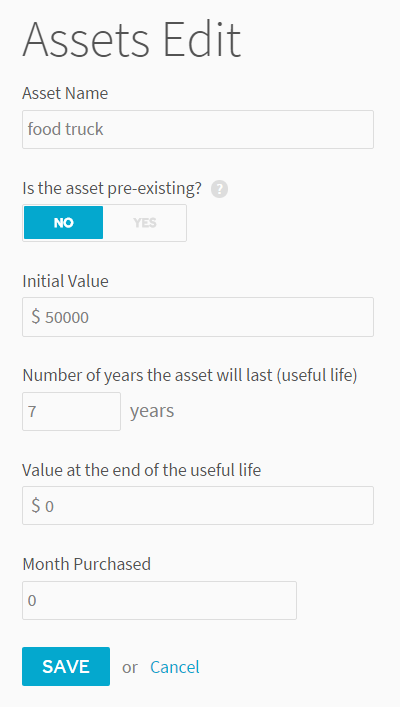 Step 5 – Food Truck Financing – With $85,000 in startup cost you are likely to need a loan or an investment to get started. I am going to assume that you invest $30,000 personally and get a loan for $55,000 to cover your startup costs. So you will need to add a Loan and a Personal Investment in ProjectionHub as seen below.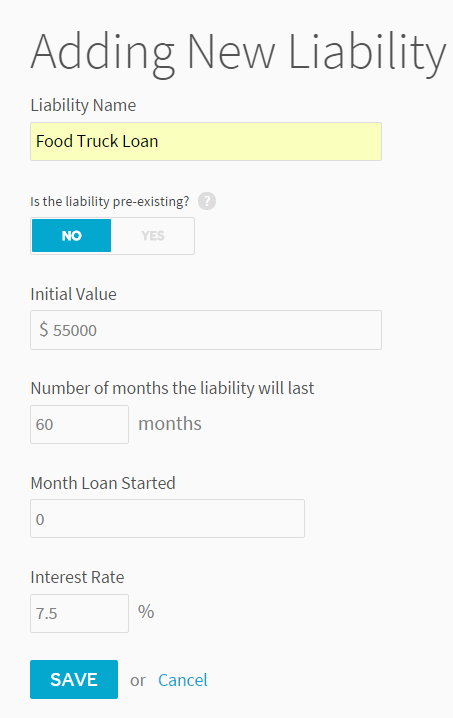 Example Financial Model
In this example we project an annual profit of $57,000. You can see our example Food Truck Income Statement here. Of course you will need to create your own projections based on your own situation. Get started by choosing the Food Truck Financial Model here. Please let me know if you have any questions at all – adam@projectionhub.com