It seems like an easy way to make some extra cash right?  Just throw a plow on the front of your truck and you are in business!  Well before you go to your local bank and ask for a loan for a truck, plow and salt spreader, you should run some numbers so that you understand exactly what you are getting yourself into.
We have created a financial model template just for you, so to get started choose the Snow Plowing Financial Model here.
Once you have done that, set up your basic business info like you see below: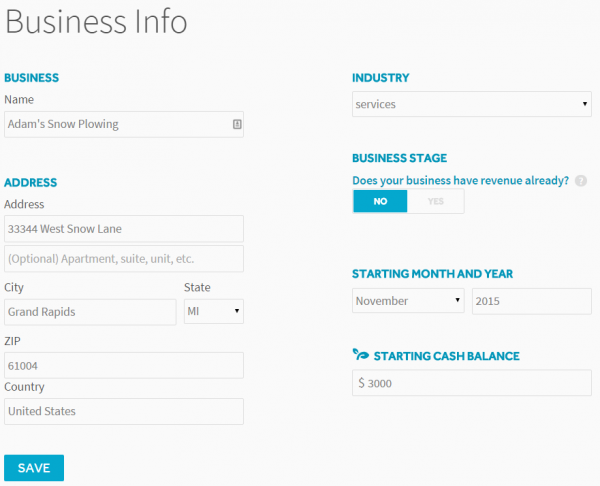 Now, let's go through the rest of the process.
What Should you Charge for Snow Plowing?
The first primary question is what should you charge?  This answer will drive your sales projections going forward.
Residential Snow Removal Rates –  According to a study by Angie's List the averages residential snow removal contract was $378 in 2013.  So the way these contracts likely work is that you agree to clear snow for the entire year for approximately $375 for a residential driveway.  This means if it snows 100 inches you earn $375 and if it snows 10 inches you make $375.  It is probably wise to build in some basic protections for yourself.  Maybe you structure the contract in such a way that the customer pays $375 for snow totals within a certain range and if you have a record year of snow there should be opportunity for you to charge additional fees.  For all of the things you need to consider when structuring your contracts, read this article by Angies's List.  In this example, I am going to assume that you charge $375 per residential contract.  I am also going to assume that in your first year you only secure 10 residential contracts.  Further, I am going to assume that you get paid up front for the whole year in November, so you will generate $3,750 in residential service revenue in November.
Commercial Snow Removal Rates –  In this example I am going to assume that you pickup a number of commercial contracts.  These are all going to be seasonal contracts which means you make the same amount per month whether it snows or not.  I am going to assume that you pick up 20 commercial contracts that pay an average of $500 per month from November through March.   For commercial snow removal there are two basic pricing models:

Seasonal Rates – This means you earn the same amount of revenue whether there is a record year of snowfall or no snow at all.
Per Inch Rates –  With this contract structure, you will likely earn more per inch plowed, but you run the risk of a dry winter with little to no snow at all which means you earn nothing.

Hourly Snow Removal Rates –  The hourly rate you can charge if you are a subcontractor and just have a truck and a plow will vary dramatically based on supply and demand, city, etc.  This forum provides some commentary on what rates you might expect.  In this example I am going to assume that you don't pick up any subcontracts where you are just plowing by the hour since you are focused on securing your own contracts, not working for others.
Based on these assumptions I have created the following revenue projections for your first year in business:
November and December Sales:
January through March Sales: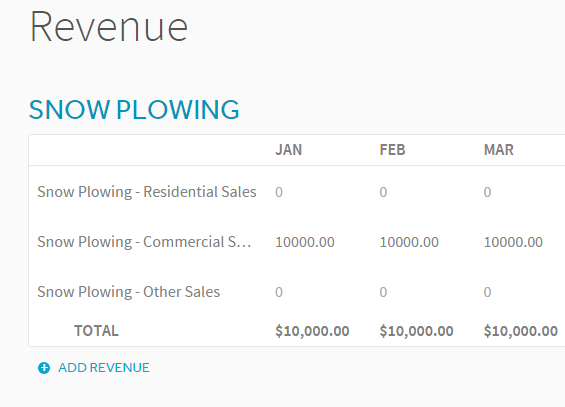 What Expenses does a Snow Plowing Business Have?
There are a number of expenses that you will incur with a snow plowing business.  You will have fixed costs and variable costs.  The key variable costs are listed below along with an estimated cost for each time there is a "plowable" snow for your 20 commercial and 10 residential clients:
Fuel – $150 per snow event
Wages – $300
Salt – $100
Chemicals – $50
Vehicle Maintenance – $25
Total Variable Costs per Snow = $625
Next, let's assume the following number of snows in each month November through March:
November – 2
December – 3
January – 4
February – 4
March – 2
So your monthly variable costs would be as follows:
November – $1,250
December – $1,875
January – $2,500
February – $2,500
March – $1,250

What are the Startup Costs to Start a Snow Plowing Business?
In order to operate a snow plowing business you need the following equipment:
According to Snow Plow Maker – Boss – a new "V' blade snow plow will set you back about $6,000.  A salt spreader might cost around $2,000, and of course a truck can range dramatically depending on whether it is new or used.  Let's assume you buy a used truck for $20,000 in this example forecast.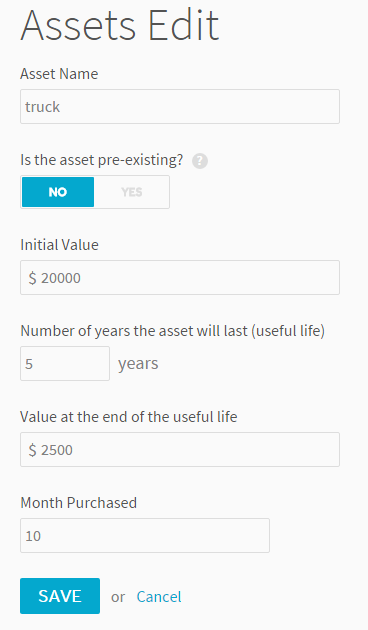 With ProjectionHub once you add these assets into the projection template, we automatically calculate the monthly depreciation expense for you based on your input.
Can you get a Bank Loan for a Truck and Snow Plow?
So now the question is whether or not you will be able to get a bank loan for your truck and plow, or if you will have to front the investment yourself?  If you are looking for a bank loan, your pesky banker is likely to ask you for a set of financial and cash flow projections.  If you go through the process on ProjectionHub you can provide just that.  In this example I am going to assume that you get a $22,000 loan and you have to come up with a $6,000 owner investment to be able to pay for your truck, spreader and plow.  So you can enter your loan and your personal investment as seen below:
$22,000 loan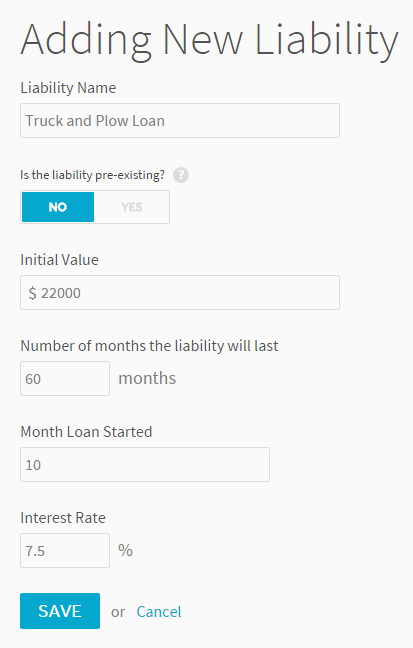 $6,000 personal investment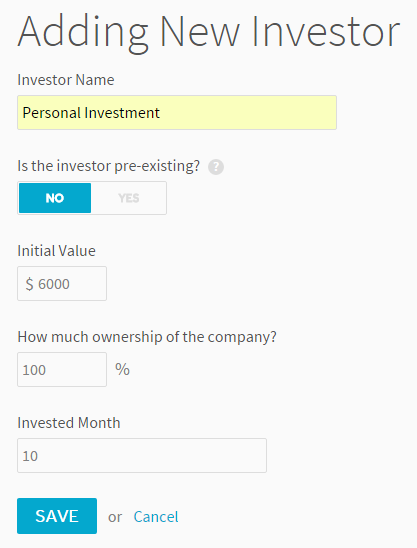 Snow Plow Contractor: What if it Doesn't Snow?
If most of your contracts only allow you to bill if it actually snows, then you need to run some "Scenario Analysis" which means you run financial projections based on different scenarios.  What if it snows 100 inches, will you have the staffing to service all of your contracts?  What if it snows 10 inches, will you survive?  Will you be able to cover your truck loan?
Financial Projection Example for Snow Plowing Business
Now that we have gone through all of this work you can see the resulting projected profit and loss for November and December and January through March.  Now you will need to go through the process on ProjectionHub with your own unique estimates and determine whether it is worth it for you to jump into the business or not.
In this example you generate $35,900 in profit between November and March before paying yourself.  Now take some time to run these numbers for your own unique situation using ProjectionHub.