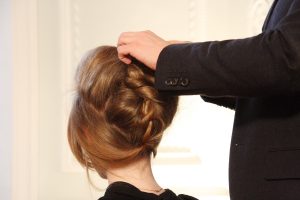 According to a report released by the Small Business Development Center Network there are approximately 82,000 salons in the United States alone.  If you are looking to start your own salon and seeking a business loan from the bank, they will probably ask you to complete a set of financial projections.
If the thought of a spreadsheet and financial model gives you a headache, then this article is for you!
Steps to Complete Financial Projections for a Salon
There are a number of things to consider as you develop your financial model.  The goal is ultimately to demonstrate to yourself and your potential financial partners like the bank or an investor that your Salon concept is financially viable and will generate positive cash flow.  Here is the process:
Step 1 – Choose your Business Model – Booth Rental vs. Employee Stylist Model
As you know, there are effectively 2 different financial models for a salon.  Either you rent booths to stylists who pay you the same weekly or monthly rent for their booth, or you employ the stylists.  I don't need to go into the pros and cons of each model, this article already does a good job of that from the booth renter's perspective.
From the salon owner's perspective the booth rental model is less risky, but the upside potential is also much lower.  Whether you have the most successful salon in town, or the least successful salon, you will make about the same amount of revenue from the booth rental model, but if you are highly successful and the stylists are your employees you will make a much higher profit.
The ProjectionHub App has a template already built for you for both business models:

Step 2 – Build your Revenue Model
Once you decide on a business model, you will need to build out your revenue/sales model.  This process should essentially model how you expect to acquire customers, how much they will pay and how many will come back and how often.  Here is an example of how I would model both a Booth Rent Salon and a Commission Based or Employee Based Salon:
Booth Rent Salon Revenue Model
You will need to make the following assumptions:
What % of your booths will be rented at full capacity each month?
 How much do you charge for booth rent per month?
 How many booths will you have available for rent?
That is about all that you need to project your monthly revenue for a booth rent model.
Commission/Employee Based Salon Revenue Model
The revenue model for a salon where you employ the stylists and then pay them wages plus commissions is a much more complicated model, but also has the potential to be more profitable.  You will need to make the following assumptions:
What is your monthly marketing budget to attract new customers to the salon?
How much in advertising costs do you have to pay in order to attract 1 new customer?
How many "free" new customers will come to the salon each month that just hear about the salon through word of mouth?
What percentage of new customers will become "active" customers meaning they continue to return on a regular basis?
How often will an active customer visit the salon?
How much will an average customer spend per visit?
With these assumptions in hand you should be able to complete your revenue projections.  If you need some help actually building this out in Excel and creating custom financial projections for your salon, we can help, tell us more about your salon here and we can work to help!
Step 3 – Project Expenses as a Percentage of Revenue
There are essentially 2 ways that you can project expenses for a salon.  You can project specific expenses for various expense categories, but it may be easier to simply project your expenses as a % of revenue.
Step 4 – Add Business Loans or Investments
It is quite likely that the reason you are creating financial projections in the first place is because you are looking to get a loan or securing funding from an investor.  So you will definitely want to add your projected investment or projected loan into your projections.  With ProjectionHub you can add a loan and it will automatically add your monthly interest and principal payments into your projections for you.
Kabbage, and many other lenders, offer loans for salons specifically, you can learn more about their salon loan options here.
Step 5 – Gut Check your Projections Compared to the Industry
According to Small Business Trends the average net profit margin is 8.78% so if you are projecting a net income of 25% of your sales, you are probably way off base.
Step 6 – Go vs. No Go Decision
Once you complete your projections it is time for a go or no go decision.  A booth rent model is certainly less risky if you can find a handful of stylists to rent a booth at your facility,  you are in business.  You don't have to worry about bringing in enough clients to keep stylists busy,  you don't have to worry about