You have 140,000 competitors…
According to the US Bureau of Labor and Statistics, there is likely about 140,000 "professional photographers" in the US.
With that level of competition, if you want to turn your photography hobby into a profitable business, you are going to master the financial side of the business.  Here is an article by ShootDotEdit that would be helpful as a general overview when starting a photography business, and in the article below I am going to walk you through the process of creating financial projections for your new business.  This process will help you get a feel for how many jobs you need in order to breakeven and/or leave your day job.
Step 1 – Sign up for ProjectionHub Photography Financial Model
We have developed a professional service projection template which can be used for your photography businesses
Step 2 – Project Income for the First Year
It seems that most photographers go from hobby to career by taking pictures for friends and family at weddings, engagements, and family photo shoots.  This is how you break into the industry because you need to have a portfolio of your work to show off to potential customers.  In the financial model that we developed we added 3 default revenue line items:
Charge by the Hour – Sales – Here you can project sales for customers that you bill by the hour.  You might not be selling any specific package, rather you are simply charging an hourly rate.  So the question is how much to charge per hour?  This is an excellent article that talks about how much you should bill based on how much you hope to earn in take home pay per year.  As a general rule of thumb you should charge at least 2 times as much per hour as you want to take home for yourself.  So if you want to earn $60,000 per year, you should bill $60 per hour so that you can take home $30 per hour X 40 hours per week X 50 weeks = $60,000.  One reason is because you will obviously have expenses, but you also won't be able to bill a client for every single hour you work.  Many of your working hours will be non-billable, some suggest that 50% will be non billable.  When you are getting started, don't price your services too low because it is not sustainable, make sure to bill at a sustainable rate as early on as you can.
Services for Individuals –  This is probably where you will get your start.  By providing packages to friends, family, and acquaintances first you can build a portfolio and improve your skills.  As you think about how to structure and price your different packages I recommend this helpful article – "How to Create Photography Packages that Sell"  As you are projecting your revenue for packages that you sell, you should be able to break it down to the number of billable hours and your rate per hour.
Services for Businesses –  At some point you may expand from services only for individual weddings, family pictures etc, to start serving businesses.  In this situation you may just charge by the hour, or offer packages.
Photography Business Cash Flow Considerations
When you book a job you should probably receive a deposit up front.  This means your revenue projections should consider this unique aspect of cash flow.
Keep in mind that photography can be quite seasonal depending on your market, so you need to plan accordingly.  This is why it is great to receive deposits up front, you can get deposits in the fall and winter for weddings the next spring and summer to even out your cash flow during the slow season.
Assumptions for Expected Revenue Projections
Below I have included the assumptions that you will need to develop for your own specific scenario:
How many weddings do you expect to happen next year in your network of friends and family?  Lets assume 10 and that you will be able to convince 5 to use your services.
Let's assume you charge $2,000 per wedding and get paid 1/2 up front
How many potential portrait sessions are there in your friends and family network?  Estimate the number of graduations, engagements, new babies, and other events that might be a good excuse for a portrait session.  Let's assume 40 of these in your extended network and you can close a deal with 12 people (1 per month).
Lets assume you charge $500 per portrait session and get paid at the time of the service.
Finally, let's assume you secure a couple of freelance corporate projects at $1,000 per project toward the end of the year after you have built up a portfolio.
One nice thing is that you should be able to start booking some weddings for the following year the last few months of the current year which will help your cash flow.
Based on these assumptions you can have a starting place for your revenue forecast
Step 3 – Forecast Expenses
Expenses are a bit easier to project in the first year.  Here are expenses that you should expect: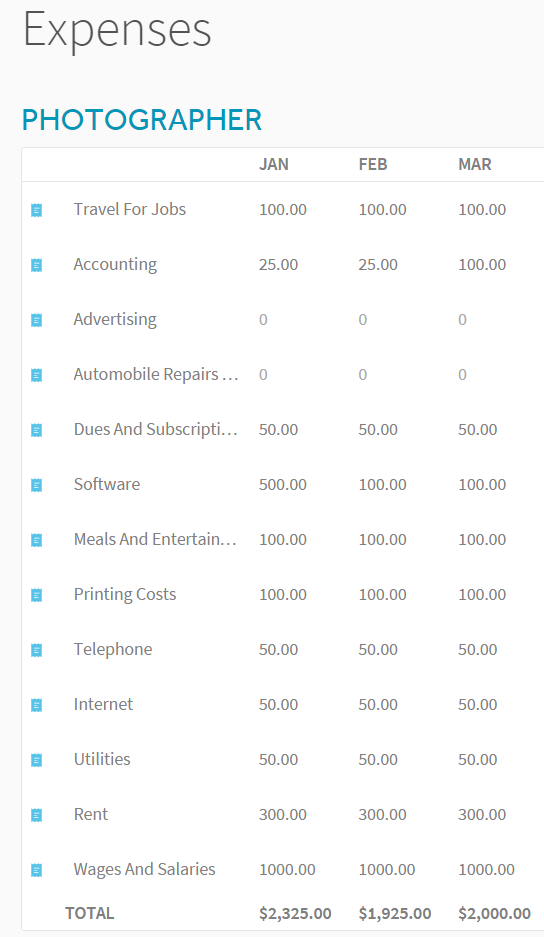 Step 4 – Getting a Loan for a Photography Startup
In addition to these monthly expenses, you will also have several thousand dollars of startup costs to buy a computer, photo editing software such as Picsart to quickly edit images, a camera, and accessories.  You will be able to add these in the "Assets" section of ProjectionHub.  Once you add those startup costs, you will be able to determine how much of a personal investment you will need to make, or how large of a loan you will need.  I added the following startup costs/assets:
Computer – $3,000
Furniture – $500
Camera – $3,000
Camera Accessories – $1,500
Total = $8,000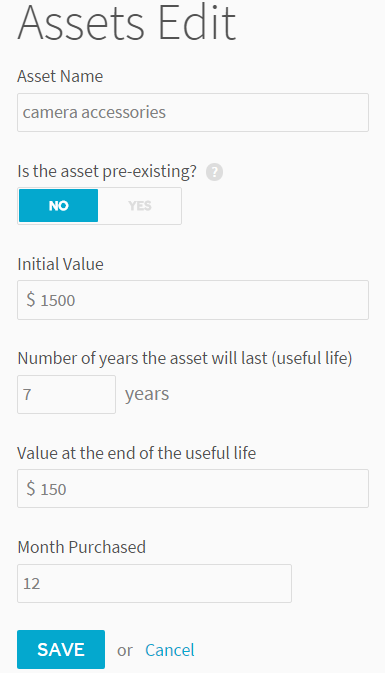 Then you can add a loan (maybe it is a loan from friends and family) for your startup.  I am assuming you will need about $10,000 in startup funds to make the cash flow work.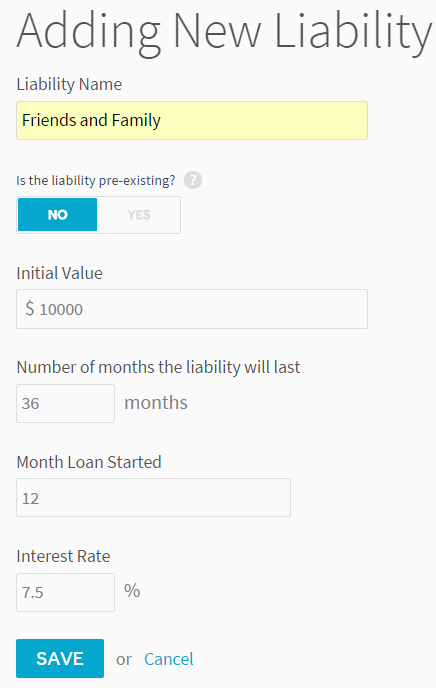 Step 5 – Transition from your Day Job to your Business
I titled this blog post as a transition from Hobby to Full-time because it will need to be a transition. It is simply a tough business to jump into full time right away.  In this projection I assumed you paid yourself $250 per month for the first 3 months and then increased that by $250 every 3 months for the first year.  You obviously will need to have another source of income in the first year.
We would love for you to try out ProjectionHub to create your own financial projections and please reach out if you have any questions at all – we are here to help – adam@projectionhub.com