For content producing websites there are just a few options when it comes to revenue generation.  In order to monetize your content you will likely have to choose one or more of the following 3 options:
Ads
Premium Paid Content
Affiliate Fees
In this blog post I want to outline how to predict the potential revenue you could generate through affiliate fees on your site, and then share a spreadsheet template that I built to help you project affiliate revenue.
What is Affiliate Revenue Exactly?
According to Wikipedia Affiliate Marketing is:
"Affiliate marketing is a type of performance-based marketing in which a business rewards one or more affiliates for each visitor or customer brought by the affiliate's own marketing efforts."
As an example, let's say you operate a cooking blog where you share recipes etc.  You might have a particular blender that you love and you write about it.  You could post an affiliate link to a website like Amazon where you can buy the blender and if your readers click that link and end up buying that blender, you could earn a commission which would be considered affiliate revenue.
How Much Revenue do Websites Generate From Affiliate Commissions?
Affiliate revenue is a big business.  According to Forrester Research the affiliate marketing industry is expected to reach $4 billion this year (2014).  As you will soon see though, to generate substantial revenue, you are going to need to have a lot of traffic.
How to Find and Sign up For Affiliate Programs?
There are a number of sites where you can find products to market that will pay affiliate fees.  A couple options include ClickBank and Commission Junction.  One of the most interesting tools is Skimlinks which automatically takes your links to products and turns them into affiliate links.  Here is a short video that explains how it works:
Financial Model for Affiliate Fee Generating Websites
Now that we have covered the basics of affiliate marketing, let me walk you through how to build a revenue model for this type of business.
1.  Traffic
The first thing you need to estimate is your website traffic.  Obviously this is much easier if you have an existing website with existing traffic.  If you are starting a brand new website, you are going to have a more difficult time coming up with a reasonable traffic level expectation.  If you expect most of your traffic to come from search, then you might be able to utilize the Google Adwords Keyword Planner to get historical data on the volume of searches for a particular set of keywords.  If your traffic is more likely to come from social sources like Facebook, Twitter and Pinterest, then your best bet is probably just to get started producing content and see how many visits you start to get and then refine your revenue model as you go.
2.  Conversion of Traffic to Affiliate Link Click
Next you are going to need to estimate the percentage of website visits that will turn into a click on an affiliate link.  (Hint: this is likely to be pretty low).  Based on this article here are some average click through rates for types of advertising:
Banners generally yield a 0.10-0.13% click-through rate
Emails – 2.8-5.9%
Good CTR for paid search ads is 2%, but I frequently see well-producing affiliates have a lower CTR (0.8%-1.5%)
3. Conversion of Clicks to Purchases
So a very small percentage of visitors will click an affiliate link in the first place, then out of those clicks a small percentage will then purchase the product you are promoting.
4.  Average Purchase Price
Next you have to estimate the average purchase price of the items you are promoting. If you have a blog about computers, then your average purchase price will likely be a lot higher than if you have a website promoting baby clothes.
5.  Affiliate % Commission
Lastly, different products and different product categories will all have varying commission percentages. Here is an example from Amazon's Affiliate program that lists different rates for each product category.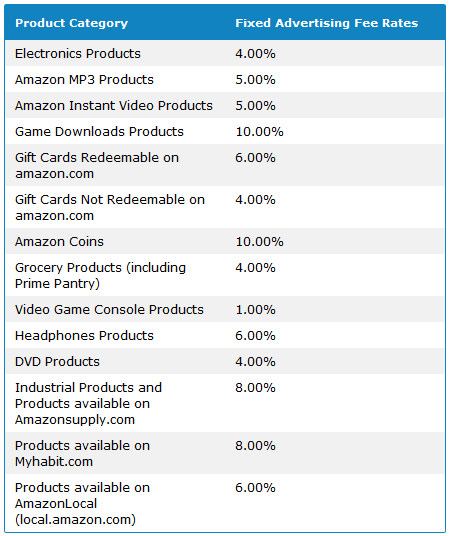 6.  Total Sales
Finally, we pull all of these numbers together to come up with your total projected sales number.  You can use our template for affiliate marketers, on our Revenue Model section of our templates page.  What you will find is that you need to have "SIGNIFICANT" traffic in order to make decent money.