The phone and tablet repair business is a hot business to get started in right now.  It came in as #4 on the list of Best New Businesses to Start according to Business News Daily.  There are also a host of chains and franchise stores popping up around the country like:
In this article I am not going to teach you how to start a phone and tablet repair business, there are plenty of great articles that already do that like this one.
Financial Projections for a Startup Phone and Tablet Repair Company
Instead I am going to focus this article on the financial model and what projections might look like for your startup based on your proposed business model.  I will be using our app ProjectionHub to create financial projections as we go, you can sign up for a free trial here.
Revenue Projections
We will start with your sales projections.  The great thing about this industry is that there are a ton of revenue opportunities.  I am going to briefly talk through the different types of revenue that are most common as well as the most common channels in which to sell.
Repairs vs. Device and Accessories Sales
There are basically 2 primary sources of income in the phone and tablet repair industry.
Repairs – You can repair devices and bill customers for the parts and services.
Devices and Accessories – You can sell refurbished devices and/or sell accessories like cases to keep devices from breaking in the future.
Customer Segments
There are 3 primary segments of customers.  In my experience the best companies in this space are able to sell in all 3 of these segments and each segment can actually help your succeed in another segment.
Retail – You can open a retail shop where customers with broken phones and tablets can walk in for repair services
Corporate – You can sell repair services to schools or corporations that often have a fleet of devices that will require repairs and servicing
Online – You can acquire devices that may be broken, fix them, and resell online via Amazon or eBay
Typical Steps to get Started
I think a good model to follow to start in this industry is
Start by purchasing some broken phones online, try to fix them and resell online.
Once you are comfortable and have some built in revenue from repairing and selling devices, you could look to open a retail store.
The retail store will provide an opportunity for walk in repair customers, but it will also allow you to buy broken devices from customers that you might want to fix yourself and sell online.
Once you have a local presence with your retail location you can approach the local schools or larger companies that have fleets of devices and look to establish a repair services relationship or contract with that organization.
Revenue Example
So now I am going to use ProjectionHub to create some year 1 projections for a phone and tablet repair startup.  Here are my key assumptions:
I am assuming that you only buy broken devices, fix them and sell them online for the first 6 months
In month 6 I assume that you will open a new store, take out a $20,000 loan and build out a store
Here is a sales projections graph for the first 12 months of a phone and tablet repair business: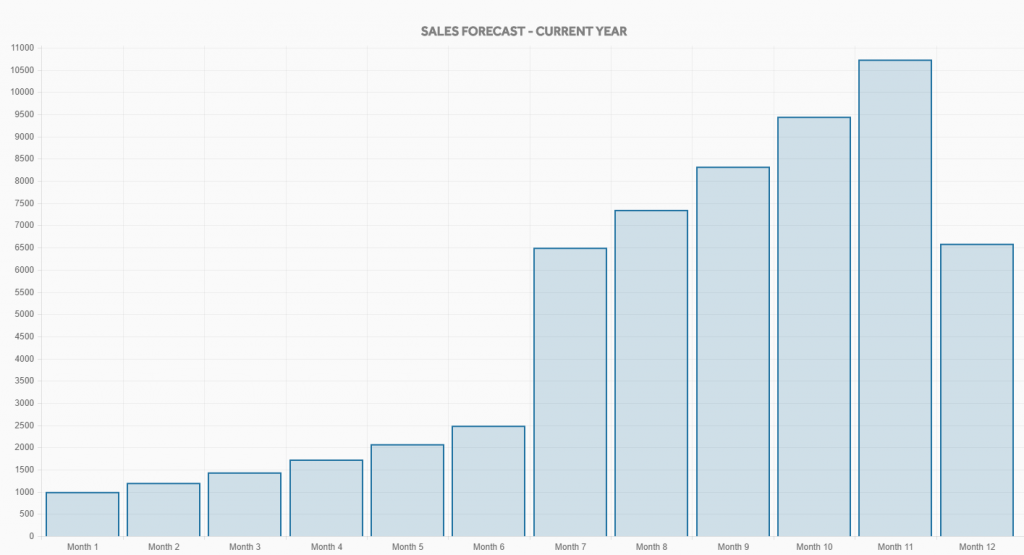 Projected Expenses
I added minimal expenses for the first 6 months since you can buy broken phones online, at home, and fix them and sell them again online.  It isn't until month 6 and 7 that expenses really start to kick in when you open your first store.  Here are my projected expenses for the first year: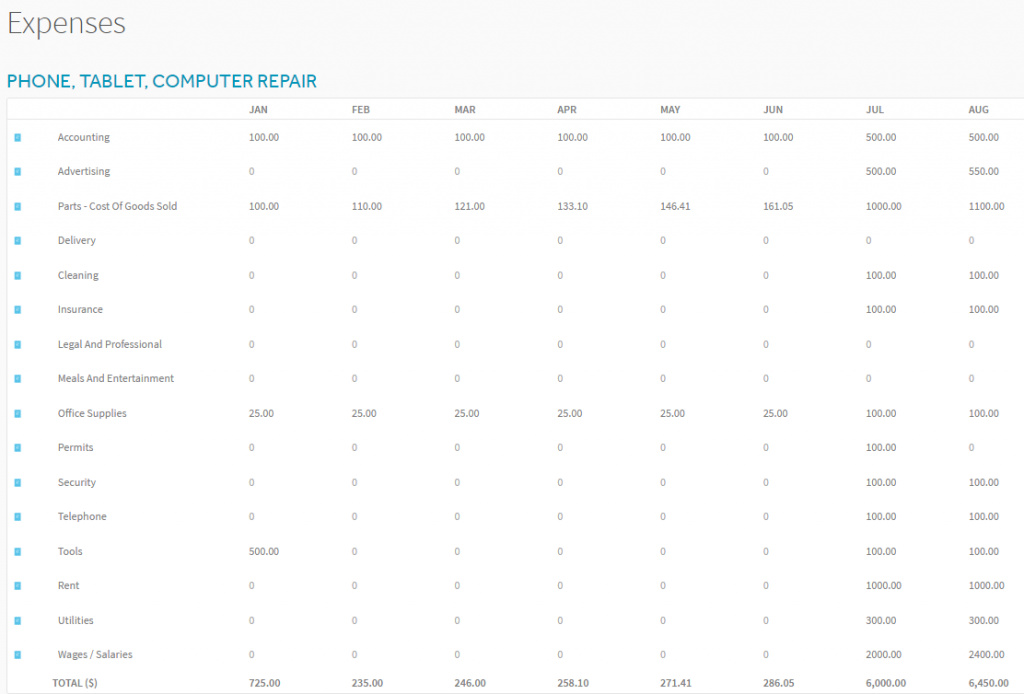 Projected Profitability
In the first 12 months I am projecting a profit of approximately $10,000 before any owner's draws.  So if you want to pay yourself in year 1 you should subtract your salary from $10,000.  I project just under $60,000 in sales for the first 12 months.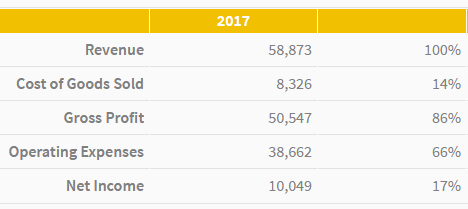 I wanted to make sure that you didn't think you would get rich in the first 12 months, but I have seen a number of these companies become highly successful over a period of several years.
If you have any questions please email me at adam@projectionhub.com