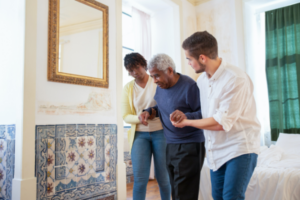 What Are The Home Health Care Business Profit Possibilities?
$72 Billion with a B.
According to a report by the National Association for Home Care & Hospice the annual spending on home health care was $72 Billion in 2009.  Clearly the industry has only grown since 2009 and looks like it will continue to grow as the "Baby Boomers" look to age in their own home.  So if you are thinking about starting a Home Health Care Business you need to go through the home health care financial projection financial projection process first so that you know exactly what you are getting yourself into.
We have created a home health care financial model that you can use here.
Once you sign up using our home health care financial model there are 5 key steps to walk through to create a set of projections.
Step 1 – Home Health Care Revenue
Revenue projections for an in-home health care company should be relatively straightforward.  You are basically need to know the following:
Number of patients
Average billable hour rate for services provided
Average number of hours provided each month per patient
Multiply all of these together and you will come up with total monthly revenue.
Step 2 – Home Health Care Expenses
Home Health Care Cost of Goods Sold
As a home health care business your labor cost of goods sold will be (by far) your largest expense.  You will first have to determine what types of services you are providing.  If you are providing medical services you will need higher cost workers, if you are non medical your staff hourly rate will be much lower, but so will the rate  you can charge your end customers.  In the table below you can get some general idea of the hourly rates for different positions.  Based on a report by USA Today, the average gross margins for home health care businesses is between 30 and 40%.   Notice this is from 2009, it was the most recent data I could find, so rates have likely gone up a bit.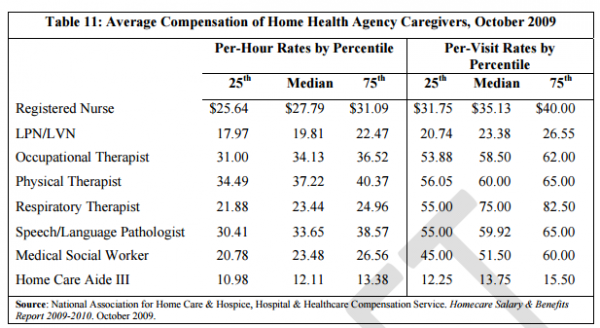 Home Health Care General and Admin Costs
In addition to the staff that are providing the direct services to the patients, you will have wages and salaries for General and Administrative staff.  Below you can see some of the potential positions you may have as well as some compensation figures.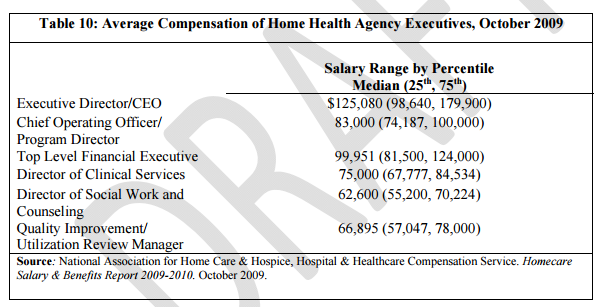 You will obviously have other general and admin costs such as insurance, rent, and vehicle maintenance.  I have provided a screenshot below of the general and admin costs that I added to the Expenses page on ProjectionHub:
 
Step 3 – Home Health Care Assets
Computers/Tablets/Phones 
Your staff may have company computers, tablets or phones that you own and will need to add as an asset.
Vehicles
You might have company vehicles that you own.  If you own them you should include them as an asset.  If you are renting or leasing you should just add the monthly expense in the expenses section of ProjectionHub.
Medical Equipment
If you are providing medical services there may be specific medical equipment that you need to have on hand to provide those services.
Office Furniture
You can also include any office furniture that you might have in the assets section.
Step 4 – Home Health Care Financing
This can be a pretty expensive business to get started.  The main reason you are going to need funding is for ongoing working capital.  Working capital is the money that you use between when you pay staff to provide services and the time that you get paid by Medicare, Medicaid, Health Insurance companies or private pay individuals.  It could be 30 to 60 days between the day your staff provide care for a patient and the day that you get paid.  You will likely need a line of credit to fill this gap.  In the early years it could be really tough to get a line of credit from a bank, so you might just need to start out with an investment from friends and family and a term loan from the bank that is collateralized by equipment, vehicles, or maybe your retirement account.
In this example I have projected a $100,000 personal investment and a $100,000 loan from a bank to help you get started.
Step 5 – Home Health Care Projected Financials
That is it, now you can download your set of home health care financial model projections to share with your potential lender or investor. Here are some projections for an in home health care company that you can use. You can get started with your own in-home healthcare projection cost template and medical office financial projections template.
Contact support@projectionhub.com if you have any questions or pick an excel financial
projection template for one of your projects.
Photo by Kampus Production from Pexels