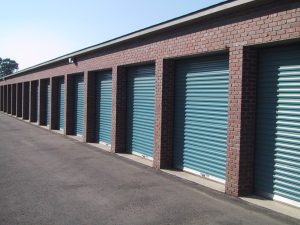 The self storage business can be a relatively simple and lucrative business.  The business lends itself to business owners who want to operate a passive business, which means they don't need to be active in the business on a day to day basis.  You may be able to hire a facility manager and spend your time elsewhere.
Successful self storage businesses can earn a hefty return. The average Return on Investment for a successful facility is around 30% annually.  This is an incredible return, but make no mistake, this level or return won't come without hard work.
In this article I want to walk you through the process of creating financial projections for a startup self storage facility.  There is an Excel template that I have created, and will be using for part of this process.  You can download the Self Storage Revenue Projection Template here, and follow along.  So here is the process:
Revenue Projections
1.  Identify Your Potential Market
Your potential market of customers is probably based on geography.  Customers are likely to choose a self storage facility near their home or business.  If your proposed facility is in the country, you might be able to attract customers from a 15 or 20 mile radius.  If you are in the heart of a city, you may only be able to attract customer from a 1 or 2 mile radius.  Based on your proposed facility location, identify how many people or businesses are located within a radius that customers would be willing to drive.  This gives you your total potential market size.
2.  What Percentage Require Self Storage
Out of your potential market, only a certain percentage would even consider using self storage.  According to the Self Storage Association, 9% of American households rent a self storage unit.  So you might take your total potential market size of X,XXX Households and multiply by 9% to find the number of potential customers in your market.
3.  Identify Target Market
Now just because you know that only 9% of households will use self storage facilities, those households are not posting a sign in their front yard that says, "I am interested in self storage", so you are going to have to do your best to guess how to find these potential customers.  Of course you can advertise online, in the newspaper, and through billboards, but you might also be able to do some creative advertising to try to target your potential customers.  For example, maybe there is a large housing development of homes without basements.  You could send a mailer/post card to that housing addition to promote your facility for the items they wish they could "put in the basement"
4.  Convert Target Market to Customer
Your marketing efforts should lead to a successful conversion of some of your target market into customers.  You are going to have to estimate conversion rates.  As a general rule of thumb you are going to convert less than 1% of leads for an unsolicited ad like a post card etc.  For someone who visits your website because they are searching for self storage, you might convert 5% to 10%.
5.  Cost to Acquire a Customer
This is not part of  your revenue projections, but it is really important to know the cost to acquire 1 customer.  Did you have to send out 200 post cards to get 1 customer?  If so, your cost to acquire a customer through this medium is the cost of the 200 post cards and the postage to deliver.   If you put up a billboard and you know that it drove 3 new customers each month and you paid $600 per month for the sign, then your customer acquisition cost would be $600/3 = $200.
6.  How Long Does the Average Customer Stay
One of the most important pieces to your revenue projection puzzle is how long does a customer stay a paying customer?  I think this is what makes the self storage business a strong business – happy customers may stick around for years and years – which makes the life time value of a customer huge.  The easiest way to implement this into your projections is to estimate a percentage of customers who leave each month.
7.  Total Current Customers
Then add your recurring customers to your new customers and you will get your total current customers.
8.  Average Rent Per Month Per Customer
Finally, estimate how much space each customer will rent on average and the rate they will pay per square foot to come up with the average rent per month per customer.  Multiply by total customers and you will get total revenue.
Expense Projections
1.  Labor
You will likely have to pay 1 full time person to manage the facility, sign up new customers, collect payments, etc.
2.  Mortgage
Unless you can pay cash for the facility,  you are likely going to have a mortgage on the property.  You can use Bankrate's Amortization Calculator to estimate a monthly payment.
3.  Property Tax
One of your major expenses will be property tax.  You should be able to estimate this pretty accurately based on your area's property tax rates and the appraised value of your property.
4. Insurance
You will also need a good insurance policy to cover your facility and your tenants valuables.
5.  Utilities
You will want to have good lighting at the facility at night which will probably be your primary utility cost.
6.  Security
Because your facility is home to many tenants valuables, security is incredibly important.  You will have an up front cost for the equipment, and then an ongoing monitoring cost.
7.  Other Expenses
Of course you will have other expenses like accounting, legal, phone, etc.
Breakeven Estimate
Now that you have your revenue and expenses projected, you can estimate what occupancy rate you must have in order to breakeven.  In order to calculate your breakeven use the following equation:
Price per Storage Unit x Storage Units Sold  = Fixed Costs + (Variable Costs x Storage Units Sold)
When managed well, you should be able to generate a 30% Return on Investment when you have a 90% occupancy rate at your storage facility.
Startup Costs
The purpose of this article is to show projections for operating a self storage facility.  The startup cost estimate is dependent on a number of variables, you can go to our website and choose a template that will help you with the estimation process.
Now that you have done all of the leg work, if you need to complete a 3 year financial projection for a potential investor or lender, you can use our ProjectionHub web app to complete a 3 year Income Statement, Cash Flow Statement, and Balance Sheet projection.