If you are looking to start your own medical practice you probably have a lot of questions.  There are a number of great resources on the web that will help guide you through the process of starting up or writing a business plan:
In this blog post I am going to focus solely on how to create realistic financial projections for your practice.  If you are looking to secure a business loan or investor, you will probably be asked for a set of financial projections.  Rather than going to get an MBA, my hope is this post will get you through the basics of projections to satisfy any lender or investor.
The Goal of Projections
The purpose of your financial projections is not to perfectly predict exactly how many patients you will have, what your expenses will be and how much money you will make.  The purpose of your projections are often to help convince yourself, lenders and investors that investing in your practice will provide a return on investment and that you won't go Bankrupt!
So what should be Included
You should have the following statements for at least 3 years in my opinion:
A projected profit and loss statement
A projected balance sheet
And a projected cash flow statement
Getting Started
We created a Medical Practice financial model and home health care financial model for you to use with our financial projection software tool – ProjectionHub. I will use this model to demonstrate how to create financial projections for your business.
Revenue Forecast
The first step in the process of creating a financial forecast is to project your revenue/billings.  This article is very helpful in explaining the details behind what doctors can earn per patient and how many patients can be seen per hour etc.
As an estimate the above article suggests that you can bill and receive approximately $35 per patient, so the primary leverage point is how many patients you can see per hour.  The average doctor meets with 4 to 5 patients per hour, and can meet with patients 7 hours a day, 4 days a week.
Let's say you can meet with 4.5 patients per hour.
4.5 patients x 7 hours x 4 days per week x 4 weeks per month x $35 per hour = $17,640 in revenue per month x 12 months = $211,680.
That is your total revenue before taking into consideration any of your expenses.
That total revenue amount is probably not too enticing for many primary care docs, so in reality what ends up happening is that many docs work more hours and spend less time with patients in order to increase revenue.
Expenses
Once you have your revenue projected, you can enter your expenses into ProjectionHub as well.  We have included a pre-set list of expenses in the financial model that should be useful for you.  Here is an example of the input screen:

Startup Costs
According to this article, you can expect startup costs of $70,000 to $100,000, your startup costs will include:
Furniture
Equipment
Copiers
Computers
Telephones
Practice Management Software
Loans and Investors
If you need some capital to cover some of your startup expenses of the first few months of operating expenses, you might either seek investment from friends and family, or other doctors, or you could apply for a small business loan.
Some of the larger national banks have specific areas of focus for medical practice loans like Bank of America.  You can add a business loan or investment into your projections as well: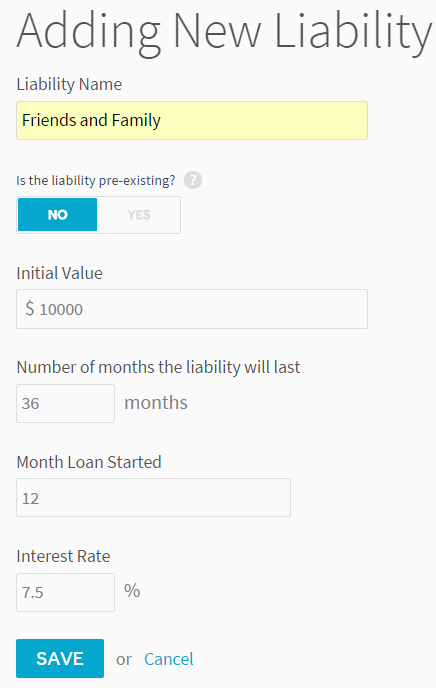 Cash Flow is King for Medical Practices
I think the most important thing to remember with a startup medical practice is that cash flow is king!  It is going to take a lot of cash to get a startup practice off the ground because you will have your startup expenses, but then once you start seeing patients there will likely be a 90 day cycle before you get paid.  You will see a patient, bill insurance or Medicare/Medicaid etc and then you can expect to wait a few months before you start getting paid.  You might read that it should take a lot less time, and it probably should, BUT I have seen so many similar businesses wait and wait and wait to get paid the first time by Medicare or Medicaid, so just expect a long wait.  That means you need to have the cash to operate the business, pay your rent, employee payroll, utilities, etc for 3 months while you wait to get that first reimbursement for services, so make sure you have plenty of cash as a contingency.
Reviewing your Projections
Once you enter all of your projection information in you can download your Profit and Loss, Balance Sheet and Cash Flow Projections from the Dashboard and determine whether you should give this a go or not.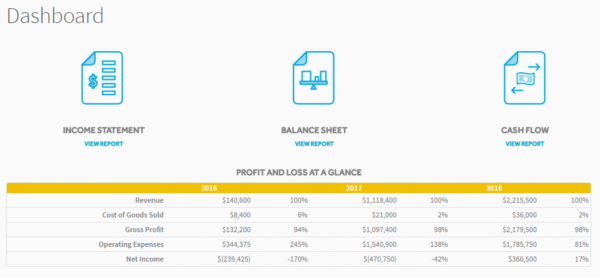 Is it Worth It?
So the question is, is it worth it?  Should you start your own practice, or should you work for someone else?  Here are some of the most recent stats on what doctors can make working for someone else.  I think the answer is that you might be able to make more money working for yourself, but it is also a lot more risky, so you shouldn't make your decision based on money you should make the decision based on all of the intangibles.  This article is excellent at outlining the pros and cons of owning your own medical practice.
Best of luck!
Of course, if you have any questions at all, please email us at support@projectionhub.com and we will be happy to help.