Millions and millions of people earn a living through consulting work.  When I say consulting, I am throwing anyone in the professional services industry into the same bucket, which would include:
Accountants
Architects
Attorneys
Business Advisors
Management Consultants
Engineers
Software Developers
Graphic Designers
Photographers
Videographers
And many more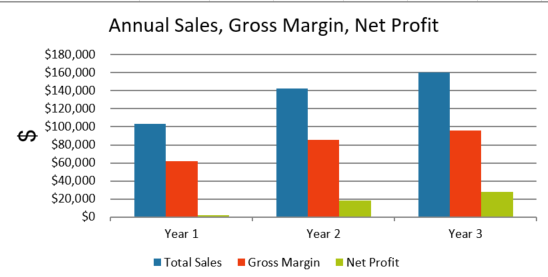 These trades generally come down to an hourly rate that you can bill to your customers.  So for anyone in this business or considering getting into the professional services business I think i
t is important to have an understanding of your earning capacity.  How much can you make if you are consulting on your own and how much can be made if you are building a professional services firm with multiple billable employees.
Let me walk you through this process.  Here is a Professional Services Template that can help you through this process.
Financial Projections for a 1 Person Consulting Firm
This should be pretty straightforward.  To determine your earning potential as a 1 person consulting firm you need to start by estimating your consulting revenue.  Here is what we need to know:
Average Billable Rate per Hour:  $75
Average # of Hours Billed per Week:  20 hours
Average # of Weeks Worked per Year: 48 weeks
Estimated Annual Revenue = $75 x 20 hours x 48 weeks = $72,000
With these basic assumptions we are estimating that you can generate $72,000 in consulting revenue on your own.  But now we need to estimate your expenses.
Expenses for a 1 person consulting firm
We would expect minimal expenses for a 1 person consulting firm, but there are a few expenses you should consider:
Accounting – $100/month
Advertising – $100/month
Insurance – $100/month
Internet – $50/month
Legal and Professional – $50/month
Meals and Entertainment – $200/month
Rent – $500/month
Software – $250/month
Supplies – $50/month
Telephone – $100/month
Travel – $250/month
Utilities – $50/month
Total Expenses = $1,800 per month x 12 months = $21,600
Net Income = $72,000 – $21,600 = $50,400 
Again if you want to play around with the numbers for your specific situation, you can use our Professional Services Breakeven Analysis Template.
Creating Financial Projections for a Multi-Person Consulting Firm
Now what if you have multiple employees instead of just your own billable hours?  This certainly changes things.
The key think you will notice is that you need to estimate the % of time that employees who are able to bill work to clients will actually be doing billable work.  For example, a graphic designer working on client projects might only be able to bill 55% of their 40 hour week on average, but you still need to pay them for their full week.
Let me know if you have any questions at all, we are here to help. Breakeven Analysis – Professional Services Breakeven Analysis – Professional Services Firm