At ProjectionHub we are all about creating useful, powerful, and simple financial models for startups and small businesses.  On June 1, 2014 we released a new industry specific model for SaaS businesses.  We have been really surprised by the use of the model in the first 3 weeks.  Over 23% of our new users since June 1 have opted to use the SaaS financial model.
Because of the popularity we thought it might be useful to write an extensive blog post/user guide for the new model.  So the following guide is based on an example set of projections for ProjectionHub which is using a freemium SaaS business model.
SaaS Sales Projections
First we start with creating sales projections and entering in some base data to get started:

I added the current number of paid subscribers that we have which is 20 since we are only 3 weeks into this new business model.  Next, I added our average monthly website traffic which was 2,700 based on Google Analytics data.   Also based on Google Analytics we know that 19% of website visitors are signing up as free users.
Next we did some internal analysis of ProjectionHub and found that about 33% of signups actually return and complete projections, and they return over a period of 3 months on average, so we lose 33% of active users each month.
Next we know from our history that 5% of users that signup will end up purchasing a subscription.  To get an idea of what a good free trial to paid subscription conversion rate is, check out this answer on Quora.   Lastly, we are guessing that right now we are losing about 30% of our users each month.  This is not good for a SaaS business model, but we have some new features that we believe will drastically cut our "churn" / cancellation rate.  To get an idea of what a good cancellation rate is see this answer on Quora.
Revenue Per Free Active User
Next we can add revenue generated by non-subscribing/free users.  On average we are generating about $1 per free registered user.  We also add our monthly advertising spend through Google Adwords and our average cost per click of $1.75.

SaaS Subscription Levels 
Next we are adding our 4 subscription membership levels.  For each subscription level we add a price and then we add a percentage that will purchase monthly vs. annual subscriptions and then we add a percentage of subscribers that will buy at each of the 4 levels.

You can add as many subscription levels as you would like.
SaaS Expenses
Now that I have added the sales projections, it is time to add expense projections.
Cost of Goods Sold
For us, we have some 1 time cost of goods sold and monthly cost of goods sold.  Since our customers pay with credit card we assume that we pay about 3% of sales for credit card processing fees.  On the monthly cost of sales we have the following:
Below is a screenshot of the Cost of Goods Sold entry page: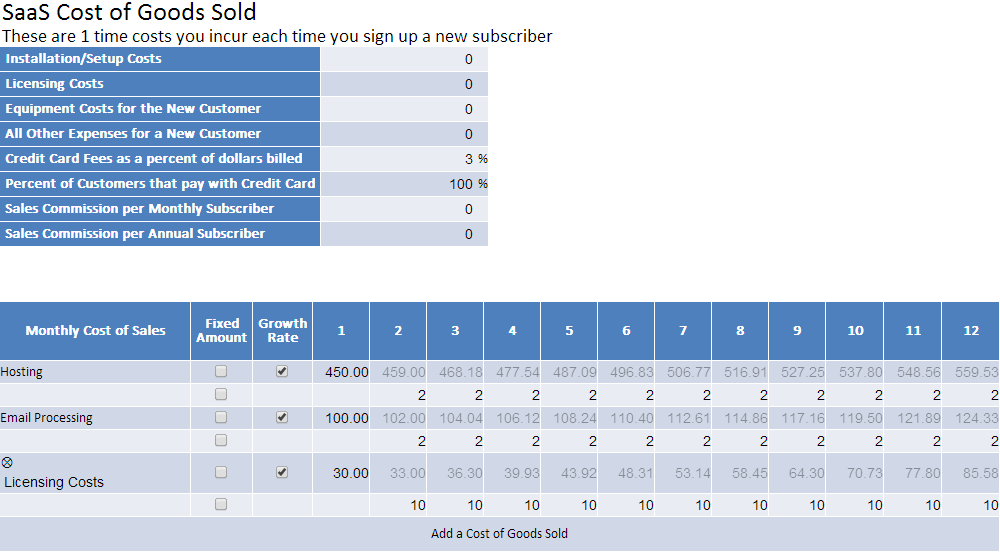 SaaS Salaries Expenses
Next we added 2 salaries to our projections.  We added a starting month and ending month for both positions and a department.  You can also add the number of those particular type of employees.  So for example if you had a call center and needed to add 50 call center reps, you could add all 50 at once instead of each one individually.

General SaaS Expenses
Next you will need to add your general expenses which is pretty straight forward.  Add your monthly projections for expenses like accounting, legal, travel, rent, utilities, etc.
Investment Projections
Next I added a $100,000 investment in month 1 and an additional $500,000 investment in month 12.

That basically completes our projections for ProjectionHub, although you can add a lot more detail if other things apply to your company.  You can add additional assets and liabilities.
Financial Projection Graphs Included
Once we downloaded the Excel file from ProjectionHub we can view the various graphs along with the 3 years of financial statements.  Here are some of the graphs included.

SaaS Financial Projection Excel Template
So if you don't want to use our ProjectionHub app, you can download our SaaS projection template here.