So you want to become a real estate agent?  Before you jump into the world of real estate you should run some basic financial projections to determine whether this is a good career option for you.  Can you really make as much as your filthy rich realtor friends?  We have created a basic financial model for you to utilize here at ProjectionHub.  Using this model I am going to create a basic set of projections for a new realtor that you can use as a model when you create your own projections.
Step 1 – Sign up for the Realtor Financial Model on ProjectionHub – here.
Step 2 – Add your business
Step 3 – Add the Realtor Business Model – Since you signed up for the realtor business model we have already added it for you as seen below.  So you can just move on to your revenue projections.
Step 4 –   Projected Revenue for a New Realtor – In the first year you need to be conservative because you are brand new to the market.  I have split projected sales into 2 line items:
Listing Commissions – Commission sales that you get from listing properties that you sell.
Buyer Commissions – Commission sales that you get from helper a buyer purchase a property.
In this example I am assuming that you will sell 1 property per month in the first 3 months and 2 properties per month after that for the rest of the year.  Additionally I am assuming that you will help a buyer purchase 1 property every other month.  Finally, I am assuming that your average property price will be $100,000 and you will receive half of a 6% commission for each sale which means you will get $3,000 for each sale.
Step 5 – Projected Expenses for a Realtor – Next I have listed all of the common expenses for a real estate agent.  Remember that you will have some startup expenses as a realtor, according to this article you should expect about $1,000 in startup expenses for initial marketing expenses and getting set up with MLS etc.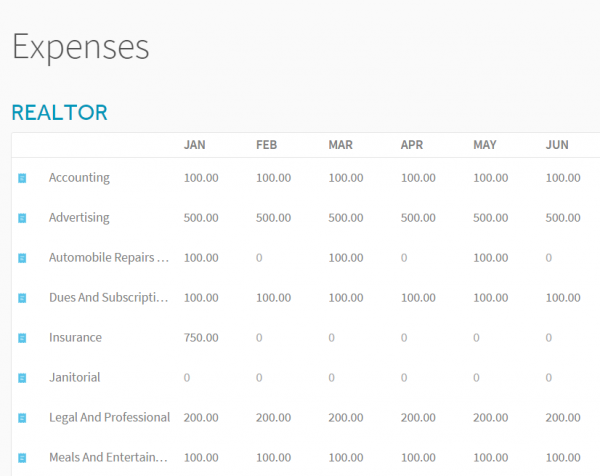 Step 6 – Add Assets – The only assets I added were a computer and some office furniture.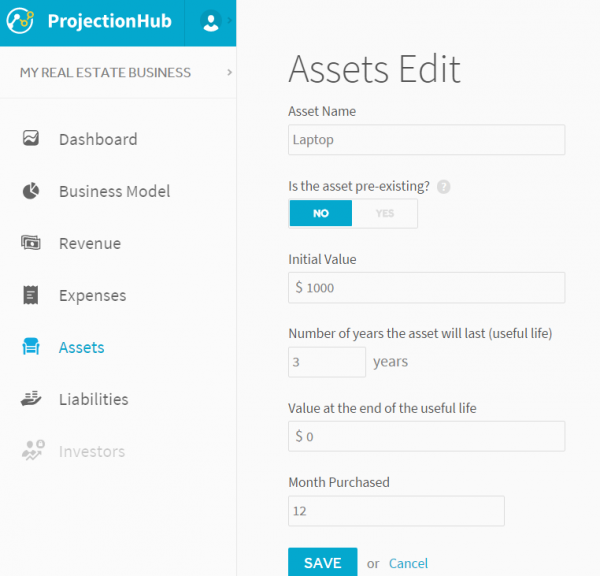 Step 7 – Add an Loans – You might need a small loan to get started to help cover expenses while you wait to get your first couple of sales.
Step 8 – Finally you will be able to check out your reports on the Dashboard page.  I have included an example report here for your projected income statement for your real estate agency.
Hopefully this was helpful for you as you consider starting as a realtor.  If you want to create your own projections, you can start with a free trial here.  Good luck!